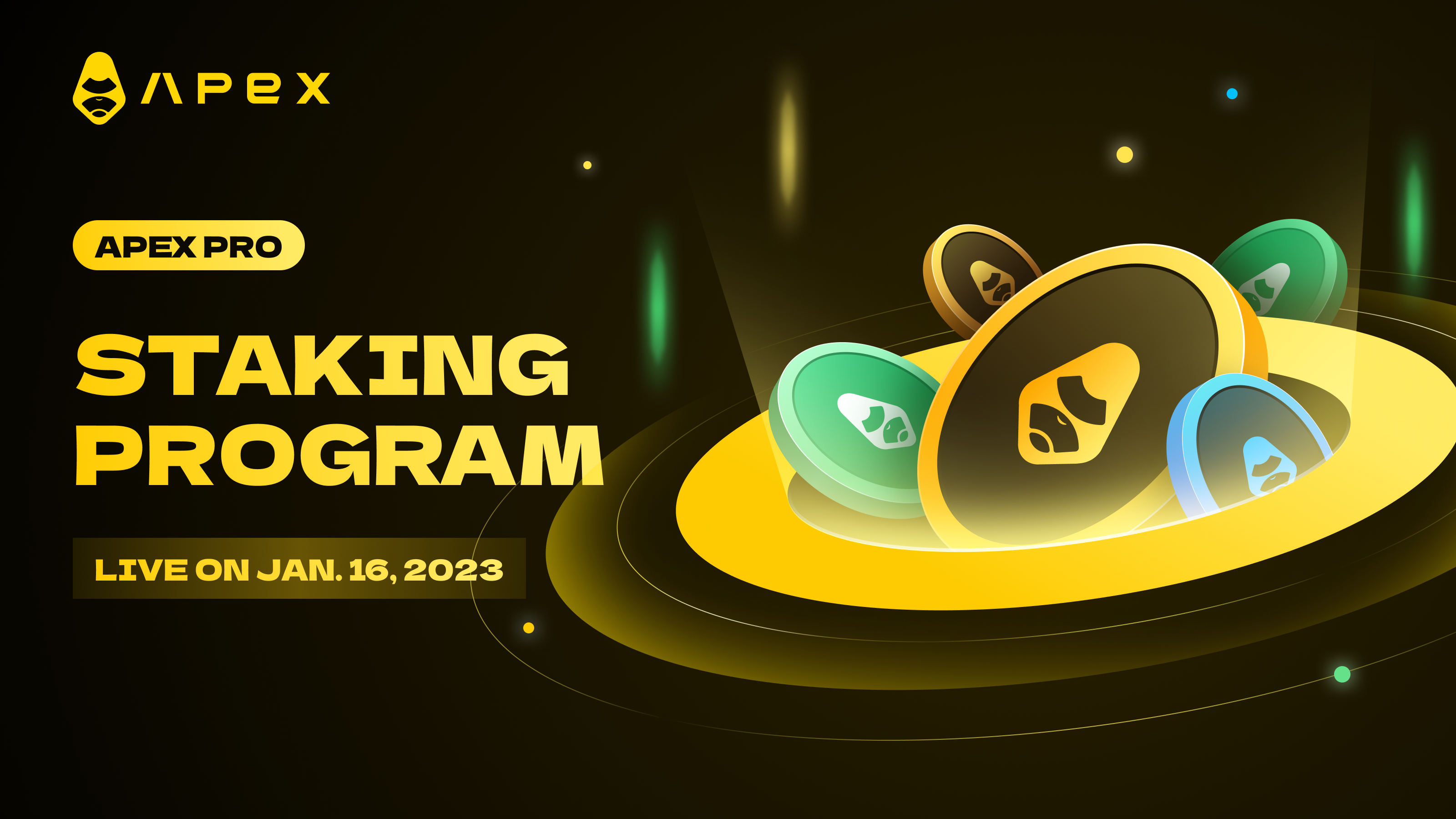 The revenue sharing incentives all ApeXers have been waiting for — ApeX Pro is more than thrilled to finally unveil the details of our new Staking Program and channel further earnings back to the robust ApeX Pro community.
From Jan. 16, 2023, 8AM UTC, all ApeXers can head to ApeX Pro's staking page and yield big returns just by staking their $APEX or $esAPEX tokens in the respective available pools.
Check out our explainer on ApeX Pro staking.
Why Should I Stake on ApeX Pro?
There're no fixed terms or plans.
Stake and unstake at any time. Of course, the longer you stake, the greater your returns, so it's up to every individual ApeXer to plan and customize their portfolio strategy to their preference on ApeX Pro.
It's made for every type of trader.
Regardless of your trading practices and preferences you are able to earn with zero effort, as long as you stake your $esAPEX and/or $APEX tokens.
Staking rewards consider not just your staked assets, but your trading activity too.
To ensure that participation in all ways across the ApeX Pro ecosystem results in overall higher gains for ApeXers, we've designed a staking reward formula that also takes your Trade-to-Earn activity into account.
How Does Staking Work?
You'll need to take note of three important factors to maximize incentives from our revenue sharing program:
The amount of $APEX/$esAPEX staked
You can earn $APEX or $esAPEX from ongoing ApeX Pro campaigns (if applicable), or purchase $APEX from crypto exchanges such as Bybit or Uniswap.
The more $APEX and/or $esAPEX you stake, the larger your rewards! Staking is perfect for traders who'd like to earn passive income on their assets instead of letting them sit idle.
Time at and duration of which $APEX/$esAPEX is staked
Secondly, the period of time you keep your assets staked as well as the date you started participating in the program will also contribute to determining the amount of revenue you can realize within the program.
What's more, we have added a "boost factor" in the time pledge calculation, which allows accruing cumulative benefits down the road when participating in various ApeX Pro events.
With that and more upcoming campaigns rolling out soon, ApeXers will have a chance to enhance their boost factor with these "acceleration cards", distributed as rewards.
T2E Participation Score
How active you are on Trade-to-Earn (T2E) will also factor in the reward calculation. We'll take an average of your T2E score across several epochs as the main factor in this particular segment.
With the above, we'll be able to derive your total staking factor score that allows us to calculate your final rewards.
For detailed formulas, calculations and examples, please check out our guide here.
Staking rewards are tabulated at the end of every week beginning every Monday at 8AM UTC

You can claim your rewards at your own convenience after each week's Thursday at 8AM UTC
Calculations for staking rewards will be counted on the day you commence staking; no rewards will be counted for the week when you unstake your holdings before rewards are tabulated every week according to the schedule above.
You can check out your total staking rewards and history here: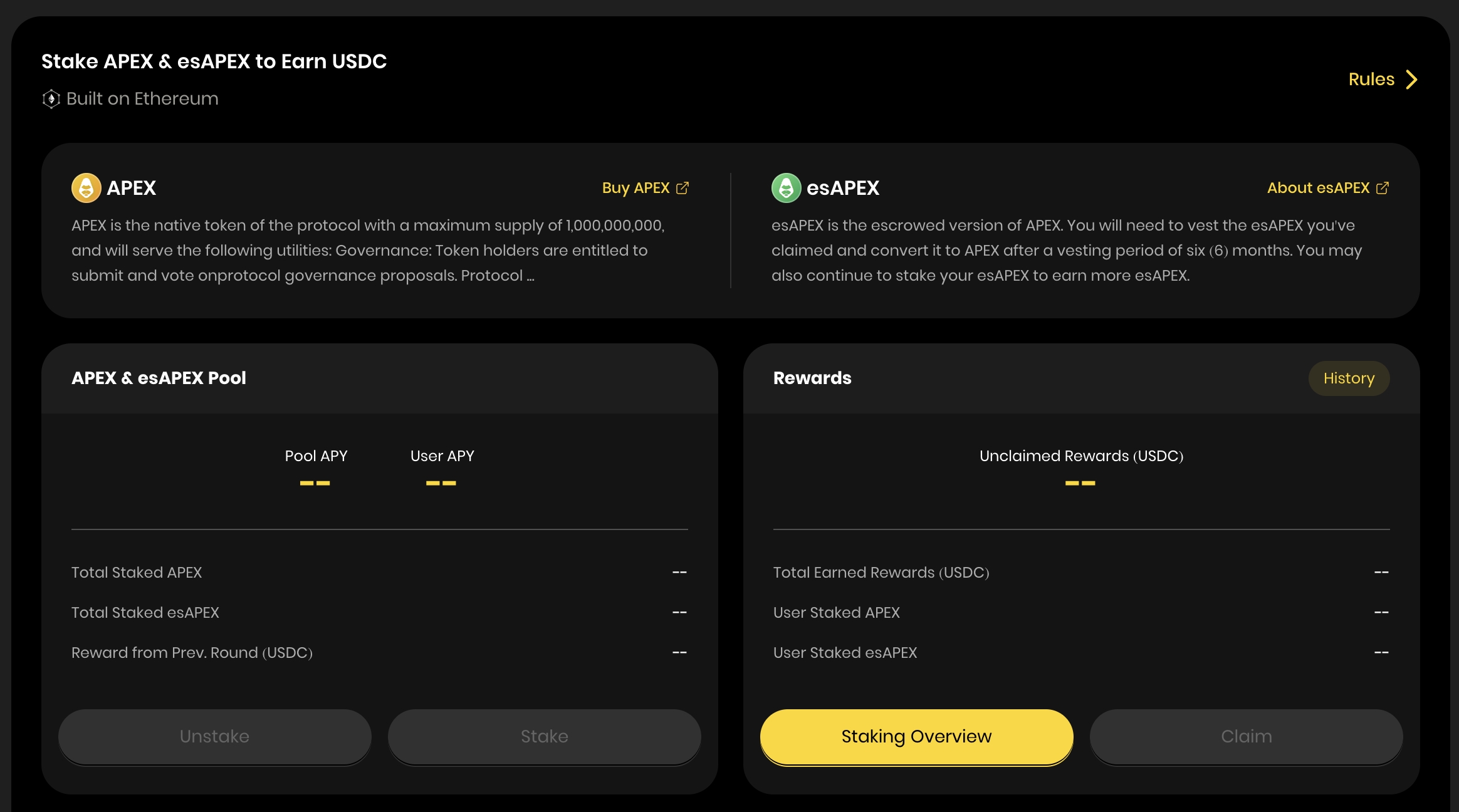 BBP Fee Adjustment & How it Affects Staking
ApeX Pro's infrastructure design involves a Buy & Burn Pool (BBP), primarily used to engage in a regular $BANA buyback and burn strategy to ensure $BANA price stability and value appreciation. Buybacks are executed primarily via Time-Weighted Automated Market Maker (TWAMM) swaps and 50% of transaction fees on ApeX Pro in USDC are regularly channeled towards the BBP.
| | | |
| --- | --- | --- |
| Time | BBP | $APEX/$esAPEX Staking |
| Epoch 9-12 | 35% | 5% |
| Epoch 13-16 | 22% | 8% |
| Epoch 17-20 | 20% | 10% |
| Epoch 21-24 | 18% | 12% |
| Epoch 25-52 | 15% | 15% |
| After Epoch 52 | 0% | 30% |
From Jan. 16, 2023, 8AM UTC onwards, the fees channeled to the BBP in USDC will be reduced according to T2E epochs and will instead be partially channeled towards the staking program and pools. For more details, read here.