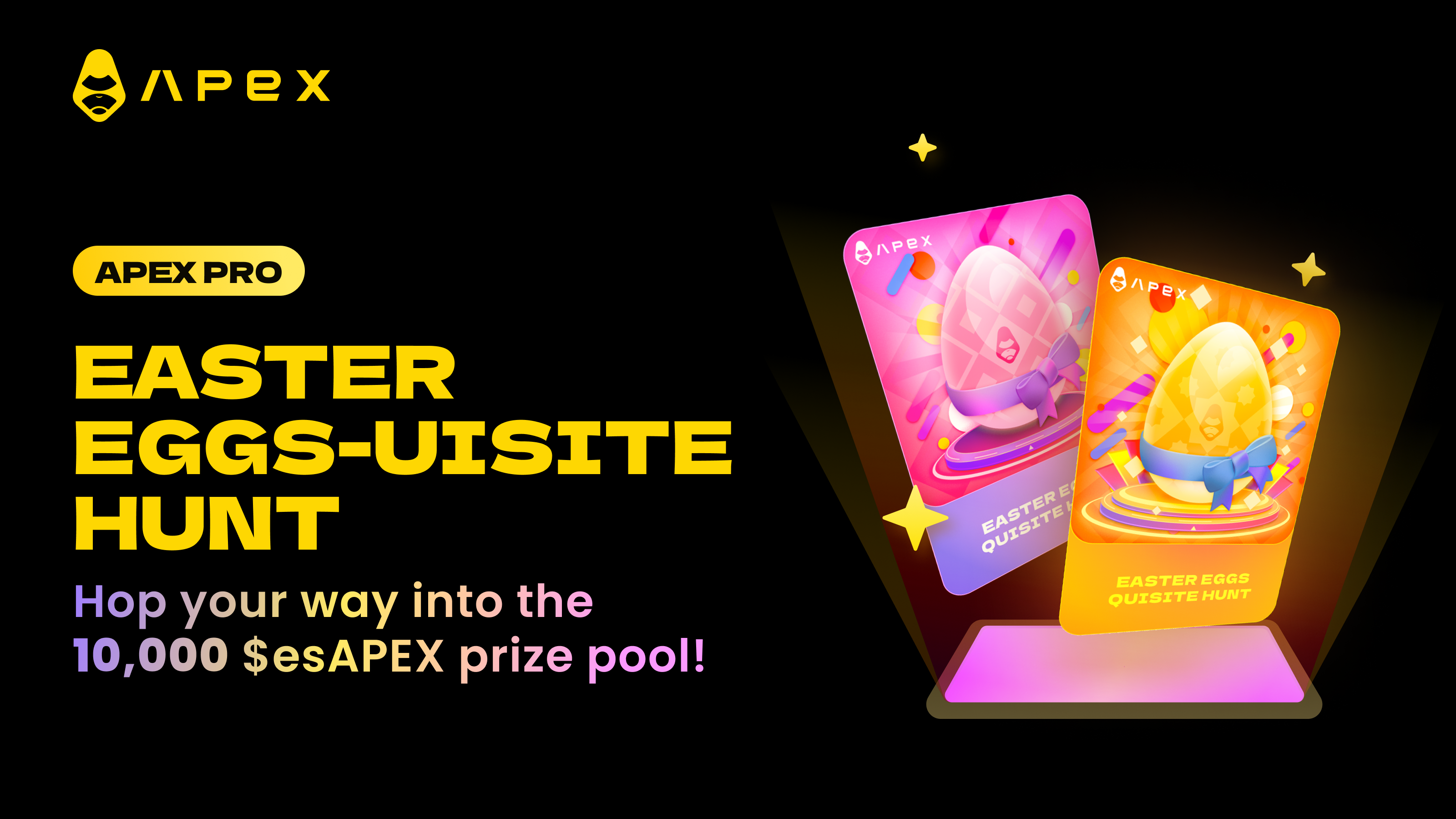 🥚 It's egg-hunting season, and all of you are invited to the ApeX Pro Easter Eggs-uisite Hunt where finding the best eggs earns you the biggest rewards — buried within a 10,000 $esAPEX prize pool for our most hardworking Easter egg-seekers to unveil 🪺
The hunt begins April 7, 2023, 12AM (midnight) UTC and ends on April 20, 2023, 11:59PM UTC. Let's get you geared up to snag egg-tastic rewards:
Step 1: Sign in to your ApeX Pro account
Step 2: Deposit a minimum of 150 USDC worth of assets to your account
Step 3: Accummulate a minimum of $1,000 in trading volume across any available contracts on ApeX Pro within the event period for the Easter Egg NFT — the larger your trading volume, the bigger the tier and thus, the value of your collected Easter Egg NFT:

Rewards Up for Grabs
Once you hit the requirements above, you'll be able to claim your corresponding Easter Egg (either the Tier 1 or Tier 2 Egg) on Galxe. The pool is equally split amongst all the participants who own an egg within each tier.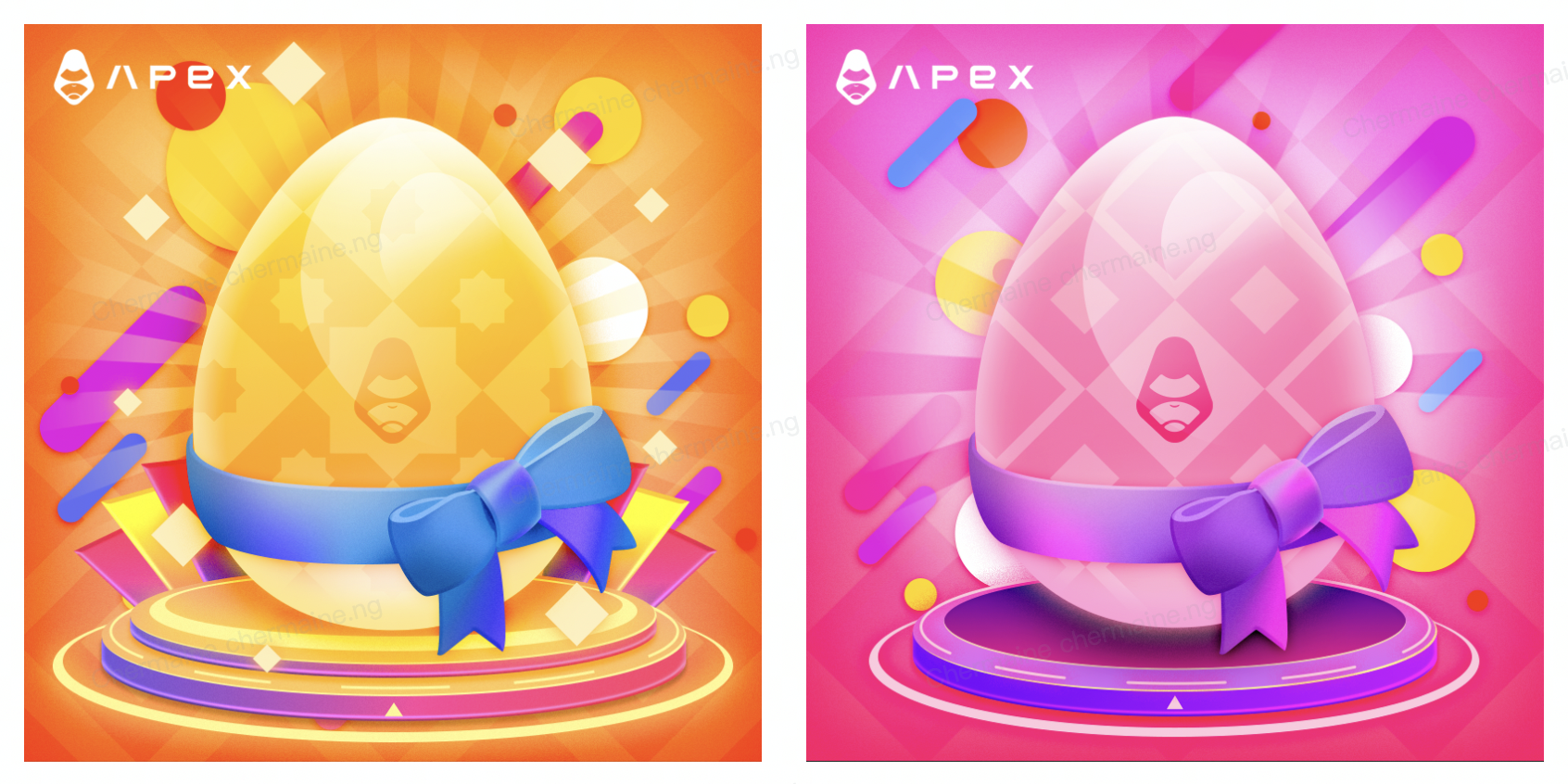 For example, if your trading volume is $25,000, you will get a Tier 1 Easter Egg. At the end of the event, if 200 people earned the Tier 1 Easter Egg, each participant will receive 10 $esAPEX in final rewards.
🐇 Let the hunt begin, and we'll be egg-ing you on from the sidelines!
*Please note that rewards will only be issued if the total number of Easter Egg NFTs minted is greater than 300.
---
Terms & Conditions:
To generate the ApeX Easter Egg NFT, a participant needs to make a new deposit of at least 150 USDC to their ApeX Pro account and reach a trading volume of at least $1,000. Participants will be able to unlock the Tier 2 prize pool once they cross the $50,000 mark in trading volume.

Participants can only receive one (1) reward from either Tier 1 or 2 based on their trading volume and the corresponding Easter Egg NFT collected.

Eligible reward recipients will need to claim their NFT between April 26, 2023, 12PM (noon) and May 1, 2023, 11:59AM UTC. Once the claiming period ends, users who did not claim their NFT will not be whitelisted by ApeX Pro and will be unable to access their rewards. There will be no extension for the claiming period; please make sure you claim your Easter Egg NFT while it is still valid.

Eligible reward recipients will be able to claim their prize rewards via the Rewards page within seven (7) working days of the end of the claiming period on May 1, 2023.

The ApeX Pro team reserves the right to change the terms & conditions of this event at their sole discretion.

Botting activities, cheating and duplicate submissions will result in disqualification from this event.

ApeX Pro reserves the right to the final interpretation of this event. If you have any questions, please contact us via the ApeX Pro Discord channel.