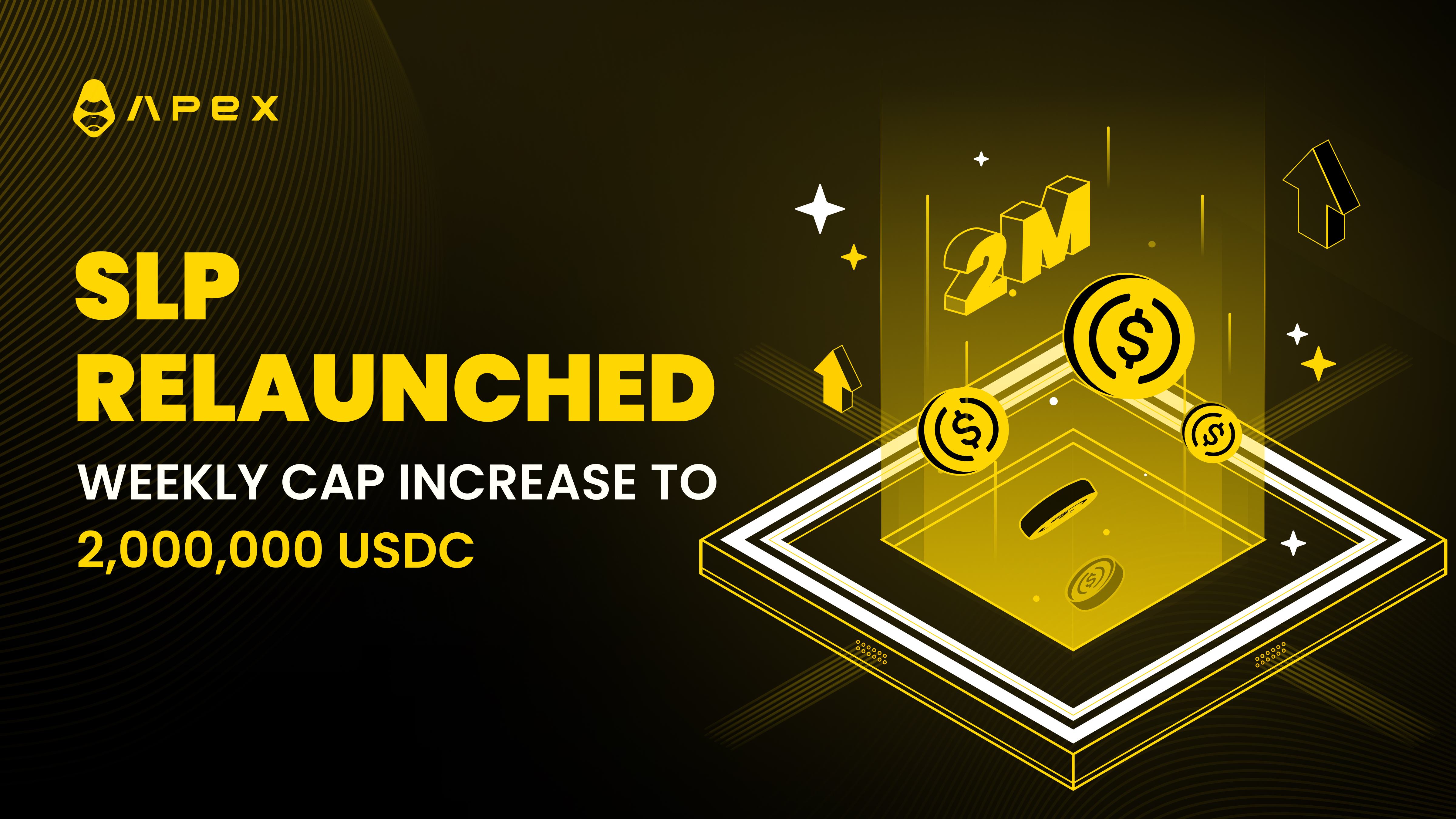 ApeX Pro's Smart Liquidity Pool (SLP), your gateway to complex market-making strategies in an all-in-one liquidity pool that allows you to earn passive income with a small capital size of just 100 USDC, is back, and bigger and better than before!
What is the Smart Liquidity Pool?
A quick refresher on the SLP — it is a liquidity pool based on advanced market-making strategies typically used by more experienced traders in the crypto community that will grant users of any experience access to generate passive income. It allows even the newest users to capitalize on potential gains generated by the market-making strategies deployed by the pool they would otherwise not engage in due to its complexity, high barriers to entry and the high risks that are commonly associated with them.
Leverages automated trading algorithms and trading signals to bring the best prices

Optimized to trade a large volume of spreads

Avoids adverse positions with advanced signals and risk management

Allows access with just 100 USDC
Smart Liquidity Pool V2 Upgrades
We launched a pilot version of SLP in May 2023 to give it a stress test. We received an overwhelming positive response to our new product, with the pool getting fully subscribed to within the first few minutes of launch, and as a result, we had to unlock higher caps to allow more participants to join. Even after that, our pools continued to be fully subscribed quickly.
Thus, we've decided to create a tiered cap unlock system to give people more chances, allowing them to save the dates and subscribe to the pool once it goes live.
We are stoked to announce that SLP V2 is now available for ApeXers with reduced risks, higher APR (annual percentage rate) yield and most importantly, weekly increasing pool caps!
The pool capacity will gradually increase over the course of one month from 500,000 USDC to 2,000,000 USDC, starting Sept. 4, 2023, 10AM UTC. Every week the pool capacity will increase, allowing new community members to subscribe in case they missed the opportunity in the previous round. The specific time at which the pool capacity will increase will be kept as a secret ensuring that every ApeXer has an equal chance of participating and subscribing to SLP.
However, while the exact hour of a cap increase will remain undisclosed, some hints and clues will be dropped throughout the week leading our community members to guess what time the unlock will take place. All you need to do is stay tuned to the ApeX Pro X/Twitter account!
SLP V1 Closure
Please be informed that the SLP V1 (beta) will soon close down. The subscribers are encouraged to withdraw funds from the pool as soon as possible and subscribe to the SLP V2 pool to actively generate yield.
For more details on how to subscribe to SLP, read our guide.